LUXURY
with STYLE

___________________________________________

We are welcome O.E.M or O.D.M project. We are sure to tailor - made your design with a professional standard.

With our Innovative products, Creative ideas and Excellent services, we are the right business partner you are looking for.
WELCOME to ICE CONCEPT
ICE is born to meet the growing needs of jewellery timepiece market.
We have provided a wide range of stylish watches in Brass, Alloy, Stainless Steel and Silver watches. We also offer quality giftware which includes elegant desk clock, cufflinks, pen, jewellery boxes, photo frames, compact mirror and key chains. They are luxury sparkling gifts you will treasure.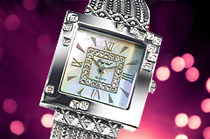 Our factory in Mainland China is specialized in timepieces with rhinestones under a management group with experience in both Watch and Jewels making. We provide one-stop manufacturing processes from design, casting or stamping, electroplating and stone setting.
With a team of innovative designer & highly-skilled craftsmen, ICE can always transform an idea into a precious, surprising and unexpected treasure.